Raising Hell: Issue 1: Never Waste A Crisis (It's The Right Thing To Do)
"Only a crisis—actual or perceived—produces real change. When that crisis occurs, the actions that are taken depend on the ideas that are lying around." - Milton Friedman, Capitalism and Freedom, 1982
Welcome to the first issue of my newsletter. As a project, Raising Hell has been in planning for a while now and I am pleased to finally be able to roll it out.
On background, the idea for this newsletter has been in development since late October 2019 when a story of mine was poached by the ABC. A pair of reporters had been scanning the FOI disclosure log at the South Australian EPA and couldn't believe their good fortune when they stumbled onto documents I had forced public showing how the Port Pirie lead smelter had washed chemicals into a local estuary. Having picked up the story, they ran it as their own, badging it as an "exclusive investigation", though I had lodged the FOIs, ran the appeals, covered much the same ground and was in the process of securing a commission when it dropped.
When I discovered what happened, the moment perfectly captured the asymmetry in resources between myself, an independent operator working out of Adelaide, and the stable of reporters at a large institutional news organisation which still produce news at an industrial scale. To the reporters who stumbled across those documents, it was just a good story. If they had beaten me to it, that was just all in the game. For me, the project was a months-long investigation that originated through my networks and was developed on my own initiative. While I was happy, on general principles, for the truth to out, it still left me in a situation where I was left to carry the cost of an investigation and no possibility of financial return.
The frustration I felt at that specific grievance has long since faded – and for the record, the senior of the two reporters had the grace to contact me directly and talk it out. It was what happened next which became the impetus for this project. After I made a series of disgruntled social media posts calling out the incident, a stranger contacted me offering to donate something to help me cover costs. It was an incredibly kind gesture and one wholly unexpected.
I turned them down flat.
Though deeply humbled by the offer, I felt uncomfortable. I have covered enough snake oil merchants now to be wary about taking people's money without offering something tangible in return. Rather than take his money, I told the guy to sit tight while I worked something out – something that would allow me to remain accountable to my readers.
Raising Hell is that something.
This newsletter is my way of setting up a reader-supported revenue stream so I can continue to pursue public interest journalism projects while covering the stories people actually want. If Patreon was not the right fit, the basic idea here has been to start with a fortnightly dispatch that carries an original screed on whatever is happening at the time and a report on what I've been doing the past fortnight. This way I may remain accountable to myself and anyone willing to subscribe. On the whole, I'll be writing this thing in the caustic and colourful style of the old US alt-weekly newspapers. To this end, I'll also be including a sub-sections such as a news wrap with my own unique take on some of the fortnight's headlines from our shared hellscape, a list of good works I've read, listened to or watched to share the love, the occasional hate-read and my pick for Failing Upward, where I take a moment to recognise the true stupidity of the powerful.
It is very possible the launch of this newsletter is ill-timed. With the world plunging into a pandemic-induced recession, it's not clear what will happen in the future. Yet if we can learn from anyone, including our enemies, we may take some wisdom from noted hustler Milton Friedman, a legend of the game, who was the first great opportunist to recognise that we should never waste a good crisis. Given the need to support myself and find an outlet for my general anger at the apparent failure of Australian social institutions to act in the interest of the people over capital, this seems as good a time as any to kick it off.
Though I am sceptical about whether anyone will actually read this, I have ambitions for what Raising Hell may become should the number of subscribers grow. With enough support, I can increase the frequency of publication from a fortnight to a week, use the newsletter as a vehicle for publishing original works of journalism or special investigations that I cannot find a home for elsewhere, or simply use it as a way to focus my journalism on issues readers care about. Maybe I'll even become yet another white man with a current affairs podcast. Whatever it is, whichever course it takes, it will evolve according to the wishes of my subscribers.
With that said, to business.
Reporting In
Where I recap what I've been doing this last fortnight so you know I'm not just using your money to stimulate the local economy …
Like most people on the planet this past week, I have been fascinated by the grim global crisis engulfing our species and instinctively turning to twitter to snark on the authorities. In the meantime, I filed the latest instalment of my column with The Adelaide Review, where I drink with strangers and use the resulting experience to document drinking culture in this fare city. In the upcoming edition of Beer and Other Sins I sketch out what it was like to drink with Tony McAleer a reformed white nationalist and author in the hotel bar at The Intercontinental on North Terrace in Adelaide. I had not intended to use the conversation for the column until afterwards. With deadline approaching, it seemed the most relevant subject given the anniversary of the Christchurch shootings and the admission by our intelligence agencies that right wing extremism was the biggest threat to Australia national security. I have also made some updates to a column I filed last month on COVID-19 and the racism being experienced by businesses and workers in China Town to better reflect the best information at that time. That piece can now be read online at The Review's new-look website.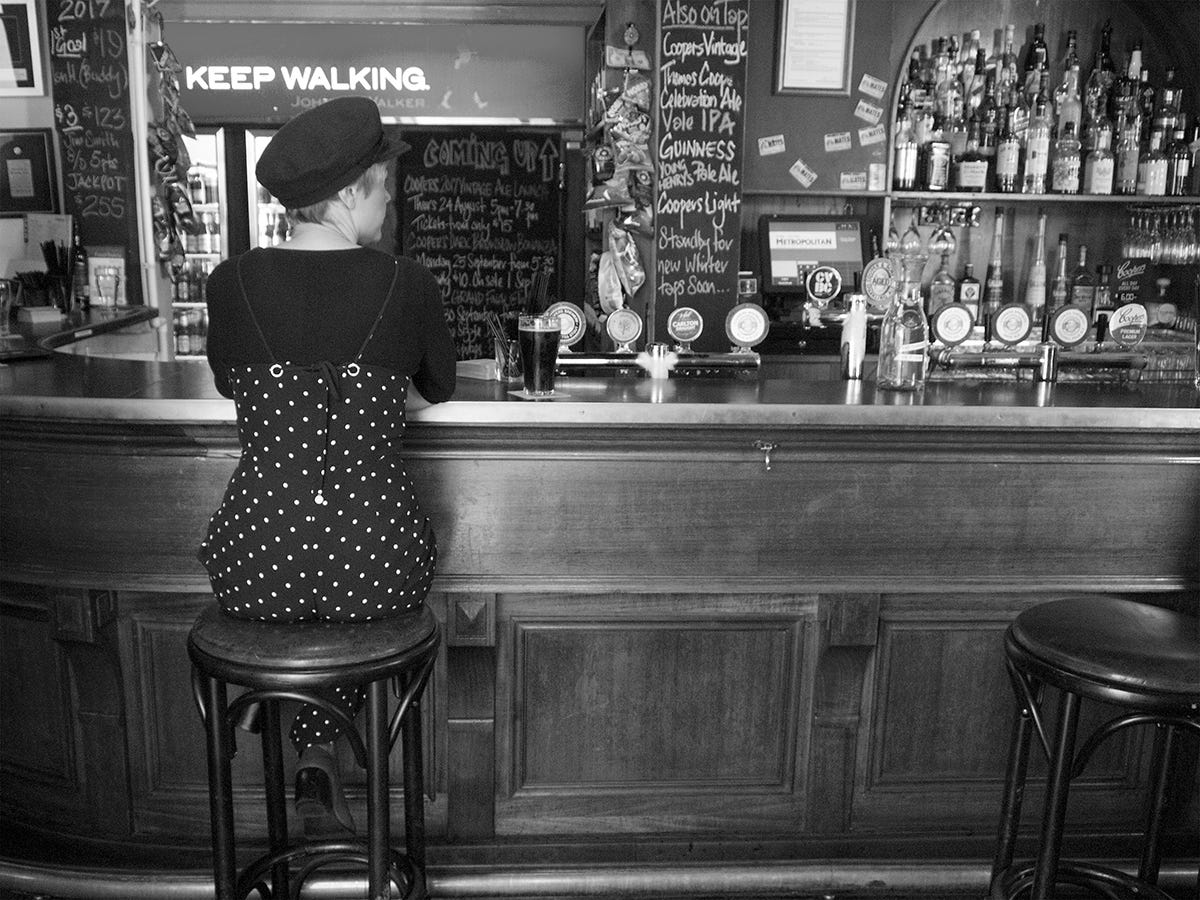 The Adelaide Review might have a new-look website, but the stock-image for the Beer and Other Sins column endures…
In other news, I am waiting to see whether the virus crisis carries the possibility that newsroom budgets may be affected. Organisations which spent their ammunition during the bushfire crisis have little left for an unfolding global pandemic, while others are suffering a loss of advertising revenue. This is already making it hard to get commissions off the ground. Without naming names, I've had at least at least three solid pitches knocked back and a handful of half-baked ones, though I have one notable success for an upcoming story with The Saturday Paper. Stay tuned.
With the growing realisation that freelancers and journalists are at risk of having their incomes savaged in the event COVID-19 strikes them down or have their contracts put through the shredder, I've been doing my civic and industrial duty by asking what plans the local Media Entertainment and Arts Alliance organiser and the national Australian Society of Authors (ASA) have in place to help. I specifically ask about whether the Benevolent Funds run by both organisations will be opened up to support members who have been diagnosed with COVID-19 and are at risk of losing income due either due to illness or a related disruption. On Monday morning the ASA released a statement saying the Benevolent Fund is not open to help with income support, but can be accessed by those in "distress" and that authors affected should sign up for the increased social security payment. I have yet to hear from the MEAA on that score…
You Hate To See It
A dyspeptic, snark-ridden and highly ironic round-up of the news from our shared hellscape…
Shop Around The Clock!

Taking advantage of the global crisis, The South Australian Premier Steven Marshall – who wants you to know his government has a strong™ plan to deal with COVID-19 – has announced changes to let retail businesses in the state open 24 hours a day with extended hours on weekends to "alleviate the pressures of coronavirus". According to the Premier's official twitter account, the decision will allow those panicked by the confused public health messaging and broadly distrustful of our social institutions to look after us in a crisis, greater "CHOICE" [sic]. Interestingly, the tweet concluded by exhorting the fine citizens of South Australia to do their civic duty and "shop around the clock!"

Shop til you drop!

The retail sector, already under pressure from the black hole that is Amazon, has been greeting the pandemic with its own panic. A flurry of discount emails have hit the inboxes of thousands across the country, while stores are bravely staying open — despite their stated concerns for the health of their workers and customers. None have capitalised on the crisis so well as the marketing department of retail lingerie chain Honey Birdette — famous for making headlines a few years back for its exploitative business practices — as they have pivoted seamlessly into selling bondage gear by asking the flirtatious question, "staying in?"
Airlines Handed Big Bag Of Cash

In a move that will surprise no one, the Australian government has said it will bail out the country's airlines with a $715 million package. Though little detail has emerged at the time of writing, the package includes a raft of tax measures and a straight $159 million cash injection to "reimburse" airlines for lost income incurred since the start of February. Federal Tourism Minister Simon Birmingham defended the decision to hand over what was presumably a big hessian sack full of money with a dollar sign printed on the side — no questions asked — by arguing the airlines were too important to fail. "A strong airline sector is not negotiable in terms of being a part of Australia's recovery for the future," Birmingham said, the day before Qantas proceeded to stand down 20,000 workers, anyway.

Federal Government Dragged To Raising Newstart

In a remarkable week, the federal government has desperately tried everything to avoid having to raise the Newstart, a social security payment for the unemployed which has not increased in real terms since 1994. As the economic reality of the moment was becoming clear, the government first refused to act on Newstart, likely on the understanding that decisions made during a crisis have a tendency to become permanent. Faced with the prospect of massive job losses from a precariously employed workforce, the government then suddenly announced it would introduce a second, separate payment paid at a higher rate than Newstart. Though the problems with creating an two-tier social security system for the pre-existing unemployed and the "decent people" who now find themselves out of a job were clear, the government backtracked again over the weekend. Instead, it announced, it would temporarily double the existing Newstart payment for all to $1300 a fortnight — a decision which did not extend to carers and the disabled. As Greg Jericho noted in The Guardian, the decision to raise the rate and do it without mutual obligations simply showed how for all these years the cruelty was the point.

Into the Brown

In a reminder that while we're confronted with one crisis, the existential threat of climate change has not abated, the Bureau of Meteorology released a report mapping the extreme heat Australia sweltered through during December and January 2019. With media organisations rapidly order their staff to work from home and devoted the bulk of their resources to covering the global crisis that is COVID-19, the story seemed to have been missed. The headline was that between 16 and 22 December 2020, the majority of the Australian continent cooked under temperatures of 40 degrees or above: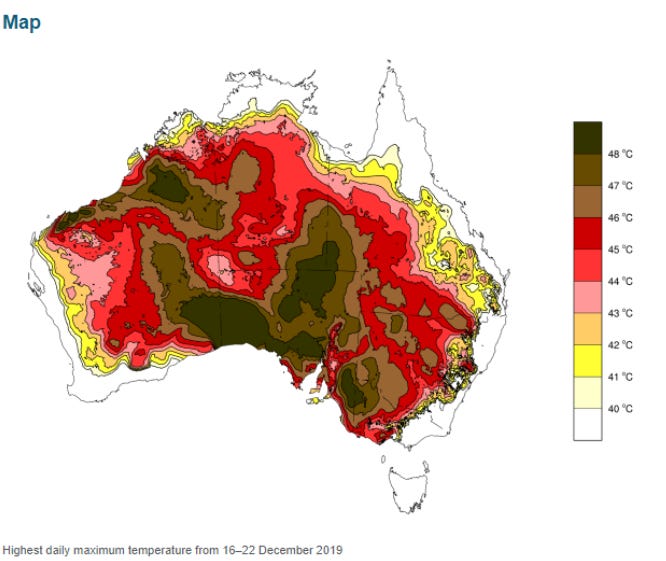 Failing Upward
Where I recognise and celebrate the true stupidity of the rich, powerful and influential…
This fortnight we recognise Gideon Rozner, the director of policy at the small-government, libertarian think tank The Institute of Public Affairs. In one tweet Rozner posted images of bare supermarket shelves with the insightful comment: "This is your economy on socialism".

The post was immediately and mercilessly mocked on social media given the image did not, in point of fact, depict bread queues in the era of Soviet Communism or the collapse of supply chains Venezuela, but what appeared to be a suburban Woolworths in contemporary Australia, one of the freest market economies in the world. The best-worst part was that Rozner was not even making an original observation. He had been beaten to the punch by another keen advocate of small government and the unfettered free market a week earlier when One Nation Senator Malcolm Roberts had the exact same thought.

And it gets better. Both Rozner and Roberts were taking part in a long tradition of libertarians setting out to prove one thing, only to prove the opposite. Over in the US, small government activist Benny Johnson famously went all the way to Cuba in September last year to photograph himself in front of fully-stocked supermarket shelves in an apparent effort to prove the Communist country destitute. Safely back in the land of the free, he took to Twitter to declare: "I just returned from Cuba. What would your supermarket would look like on socialism? This is the fanciest 'supermarket' in Havana. Notice anything odd? Aisles are filled with goods having NO VARIETY AT ALL. No competition No choice No hope.[sic]"
Good Reads, Good Times
In keeping with the pandemic theme, I'm re-upping Anthony Bourdain's least recognised work Typhoid Mary, which editor and writer Hope Louie Killcoyne helped research. The book about the cook at the centre of repeated typhoid outbreaks in New York took a different tack to its subject than the usual condemnation of a woman who refused to wash her hands. Bourdain's treatment of his subject depicted a tough, Irish immigrant in a xenophobic and patriarchal environment at a time when the concept of asymptomatic transmission was non-existent. Though he too would ultimately condemn Mary for putting children at risk, Bourdain wrote about her with a thoughtful respecting as a migrant cook who found a niche for herself in a hostile world she barely understood. In many ways this is a helpful insight into our present moment, as some communities buck the call to self-isolate.

Stray Thoughts
My half-baked, half-formed, inconsistent and momentary observations of this wide brown land, the people who run it and those who inhabit it…
Listening to Prime Minister Scott Morrison tell the public last week that hoarding toilet paper is "un-Australian" was an exercise in deja vu. The sense we had seen his all before was confirmed by South Australian comedian Jon Brooks who noted how Morrison, a man repeatedly praised for his marketing nouse, has essentially ripped off Big Kev, the entrepreneur who opportunistically deployed Australian nationalism to sling domestic household products and who passed away in 2005. Morrison is, essentially, Big Kev in a suit.

Which leads to another observation about the Prime Minister. After the commentariat wrote a series of glowing editorials mid-way through last week declaring Scott Morrison back in control and looking borderline Prime Ministerial to boot, the man quickly shredded that good will with his Sunday night press conference. With his temper on full display, Morrison delivered more confusing and poorly explained information about business closures before chiding the nation as if they were wayward children and he, a family patriarch warning the Australian people they had better behave themselves, or else…

As the economy collapsed around them, whole battalions of artists, musicians, writers and other casuals in the arts sector were told by the federal government that while there would be no specific bailout for them, they were to "benefit" from the increased rate of Newstart. Though the raise to the social security payment is temporary, incomplete (it does not include other people such as those living with disabilities and carers) and long-over due, it was a curious move. A government which has inconveniently spent ten years demonising the unemployed while elevating the precariously self-employed to the hero-status of "small business owner" seems to have abandoned the rhetoric entirely, for now…

This is in part due to the demographics now swelling the ranks of Centrelink queues in "scenes not known since the Great Depression". With middle class Australia collectively logging on to Centrelink to file for a Customer Reference Number, it's hard not to wonder how fast the government will leap into action to actually make social security a marginally less grim bureaucratic nightmare.

True to form, business groups and free market commentators have seized on the global crisis to call on the government to deliver "productivity reforms", "cut red tape" and to defend the noble act of price gouging. At a time when some three million casual workers are facing the prospect of being laid off or having to choose between their health and making rent, pro-business commentators are calling for wage freezes and less regulation. Such brazen opportunism harkens back to the distant days of the bushfire crisis when ten million hectares burned and the Institute of Public Affairs helpfully suggested setting up a Special Economic Zone, devoid all regulation, to speed reconstruction.

In moments like these I continue to find comfort in the vaguely seditious collective exasperation at the Prime Minister and the shitshow that is his governments' handling of two successive crises. From gaslighting the public to consistently delivering confused and ill-defined public health messaging, the collective shitposting that follows every official announcement is more reassuring than the next announcement from the highest office in the land. On the other side of this crisis, there is a better world. #trampolinevenue.

If you've come this far, consider supporting me further by picking up one of my books, or leaving a review.