Raising Hell: Issue 6: Not Today, Satan
"Life is strange. Every so often a good man wins." - Frank Dane, British actor of the silent era.
When the federal government announced last Friday it was was abandoning the robodebt scheme and paying out 470,000 Australians who had been bullied, cajoled and pressured into paying up, my natural reaction was: of course.
With the class action lawsuit organised by Gordon Legal building to a crescendo, of course the Coalition were trying to get ahead of a crushing defeat. Anyone who had been following the story for any length of time knew it was inevitable the government was going to lose. And of course Stuart Robert had been too craven to greet the bull horn first. In announcing the government pay out $714 million to those targeted, the federal Minister for social services called the presser in the Gold Coast knowing no political reporters would be present but for a plane ride and a stay in quarantine.
And of course Robert's announcement would be light on detail. Those looking for a little more depth would find it in reporting by Luke Henriques-Gomes at The Guardian (a subscriber to this newsletter) who fleshed out the background with a howler of an exclusive. The key detail — that has gone somewhat overlooked over the last few days of coverage — is that the department weren't exactly wiping the slate clean on those debts. It would instead be returning those debts to "zero" while keeping them on the books in case it eventually found another creative way to claw that money back.
Then there was the additional background: the government had known about its screw up since February. During the brief moment of relative calm just after the country burned but right before the pandemic struck, the department of social services told Cabinet the entire robodebt program was "no longer viable or cost effective" and that it should be scrapped. In the wake of the Amato decision it was clear the whole exercise was illegal and the $2.7 billion the scheme had been projected to claw back for "budget repair" was little more than a fantasy. In what may count as an understatement of historic proportions, the department informed Cabinet robodebt was now "uneconomic".
Putting aside the psychopathy inherent to that statement, if that was the word in February it took until the end of May for the Coalition to move. Circumstance may be partly to blame, but so too is the ugly politics which has directed attitudes to social security more broadly for decades. Going back to skim the Coalition senator's dissenting report to the first senate inquiry into the robodebt program gives you a sense for it — though mostly for this key closing paragraph which made a point to slam grassroots activists in the permanent record:

The precedent for all this had been set long ago. Early on, John Howard set the tone — though if we're being honest, Bob Hawke first proposed a Work for the Dole scheme in 1986 — as he saw easy votes in othering the unemployed. Since then, we've had a tacit bipartisan acceptance of the status quo which has meant the social security rate has not risen in a meaningful way since the Keating government, effectively leaving those among the bottom 40 percent of the income spectrum to feast on slogans about "workers and shirkers".
For its part, so long as the Coalition has been in power, its guiding philosophy on social security has been that the best way to help someone up is to kick them while they're down. With this in mind, the robodebt scheme may, in many ways, be thought of as the tip of the boot. The program as we know it was conceived, originally, as an expansion of existing compliance activities to claw back an estimated $2.1 billion in savings for the federal budget. The whole thing was a trainwreck from the point of inception. If the robodebt scheme booted up on 1 July 2016, the prep work was being done way back in middle 2015. In designing the system, its authors looked to similar programs in New Zealand and to the US state of Michigan, where Republican governor Rick Snyder — the same guy who oversaw the Flint water crisis — introduced the Michigan Integrated Data Automated Scheme (MiDAS) in October 2013. MiDAS effectively ran until August 2015 when the state's courts were flooded with 30,000 appeals and a class action eventually forced the Michigan authorities to abandon the whole project as a colossal failure — at great expense.
Anyone who had bothered to check could see how it would play out here in Australia — and yet the government went ahead anyway.
To this day I have questions about all this. Who first proposed the idea? Morrison may have been Social Services Minister when the expansion was conceived, but was the contemporary robodebt scheme the brainchild of some Liberal party staffer who took part in a swap program with Snyder's office or to New Zealand? Or was it some ambitious dev inside the department of social services who heard about the idea, thought it was cool but decided to omit certain facts? Were department heads so excited they finally found a shiny, tech-driven solution to an old problem no one thought to check how these overseas programs played out? Or did they just not care? It took me all of ten minutes to find most of this background while working on an investigative story about robodebt in November last year. I have been working on getting answers to these questions still, but it has been slow going. When I requested documents under FOI which may help shed some light on this, the late Department of Human Service's legal team reacted as if I were asking for the blueprints to the Royal Australian Mint.
While last Friday's announcement represented a victory — and confirmed certain suspicions — there were also other nuances. As someone who has written about social movements, the politics of all this was significant to me. Bigger picture, the zeal with which the Australian government embraced the robodebt scheme and the tough-guy approach to social security may yet mark one of the greatest ironies of public life. The more the government has sought to perform strength by othering the unemployed and create a social security system which has left people to starve and die, the more this politics will undermine itself in the long run. A generation of political leaders who have spent the better part of the last two decades working to deny, deflect, dissemble, grandstand and, occasionally, wedge the other side on social security have, effectively, been training the next generation of political opponents. After all, anyone under the age of 40 who hasn't had access to a trust fund or whose parents haven't had stable employment has likely been forced to engage with Centrelink as a student, while looking for work, while casually employed or as a mother.
And it was from the ranks of these people which came those who fought to overturn robodebt. Long before Bill Shorten found redemption in the wake of an electoral defeat by helping to organise a class action lawsuit with Gordon Legal, it was actually a constellation of the young, the curious and the angry which transformed robodebt into a national issue somewhere around Christmas 2016. Among those involved were activists like Lyndsey Jackson, Asher Wolf and Justin Warren — though there were hundreds more who acted in concert and are impossible to fully list here. Together they used social media to organise around #NotMyDebt as a brand and began the earliest calls to end robodebt. Civil society may have largely ignored the issue until it became safe to talk about, but small grassroots activist groups like the Anti-Poverty Network SA and the Australian Union of Unemployed Workers rallied.
At the level of federal politics, even as Angus Taylor was aggressively spruiking the scheme, the first and strongest voices to speak out were not Labor, but Independent MP Andrew Wilkie and Greens Senator Rachel Siewert. Their advocacy gave official cover to activists and led to the earliest media reports from Christopher Knaus at The Guardian, who was the only reporter to turn up to Wilkie's press conferences. From there, a montage could be put together depicting scenes the various reports, scoops and gaffes, including both the moment legal professor Terry Carney called bullshit on the whole scheme and the time in May 2017 when, on the last day of the first senate inquiry, departmental officials were confronted with an Administrative Appeals Tribunal (AAT) decision (see page 7) that described robodebt as unlawful. The department ignored the decision entirely, while the government quickly moved to replace Carney at the AAT. In the end, he — and everyone else — would ultimately be vindicated by the Amato ruling which declared the basis of the scheme illegal.
In getting to this point, those who took up the fight from the outside have learned about the machinery of parliament, Freedom of Information law, media relations and the interpersonal skills required for political life. Long-term, I suspect some among these activists will eventually become elected political leaders in their own right — and this would be an excellent thing. The victory itself has proven the power of grassroots organising at a time when the Australian National University's 2019 survey of political attitudes is reporting trust in government has fallen to 25 percent and support for democracy is at its lowest since the 1970s. It may be a radical thought, but perhaps the cure for our frustrations with politics is not less democracy, but more…
More to the point, this fight is not over. Friday's announcement from the Coalition does not hint at a change in direction but rather a transparent attempt to clean house as the post-pandemic world makes this issue an inconvenient hill to die on. As has been pointed out by one Raising Hell subscriber: no one has yet been held to account over this multi-million dollar screw up which cost people their lives. Stuart Robert remains minister. A Royal Commission has not yet been called to investigate. Though it is not a competition, it is worth remembering that it took just four deaths to trigger the Royal Commission into the Pink Batts scheme. When it comes to robodebt and the department's compliance activities more broadly, people have died, been made homeless, skipped meals and stopped their meds. Scott Morrison, meanwhile, has remained unmoved. The Prime Minister gave a strong™ speech to the National Press Club just days before the robodebt announcement where he returned to tired ideas about austerity, telling Australians they had to "live within their means". A week before that, he had given a similar speech in parliament where he described the social assistance measures passed during the pandemic as "addictive". While it was a comment directed to income support through the Jobkeeper program, it also functioned as a dog whistle over the Jobseeker payment: if government support is like OxyContin, the implied message was all those who relied upon it were addicts.
This kind of rhetoric is dangerous now in more ways than one. With two million people out of work thanks to the pandemic, many have now joined the 850,000 people already unemployed. With hundreds of thousands now exposed to the absurd bureaucracy of our social security net, the situation may eventually prove flammable should there be a deep recession. Even as the government has said "my bad" on robodebt, what happens next must be handled with care. Clumsy talk about throwing people on the Jobseeker payment back below the poverty line when the Coronavirus supplement ends is the kind of thing that has sparked riots — a prospect that should make the rich and powerful wary. To corrupt a joke from my favourite political economist: Palm Beach, NSW, 2108 — the country's wealthiest neighbourhood — is not a defensible position. It is a peninsula backed by cliffs and bottled-necked by ocean. If history is any guide, when you push people far enough, they will come for you.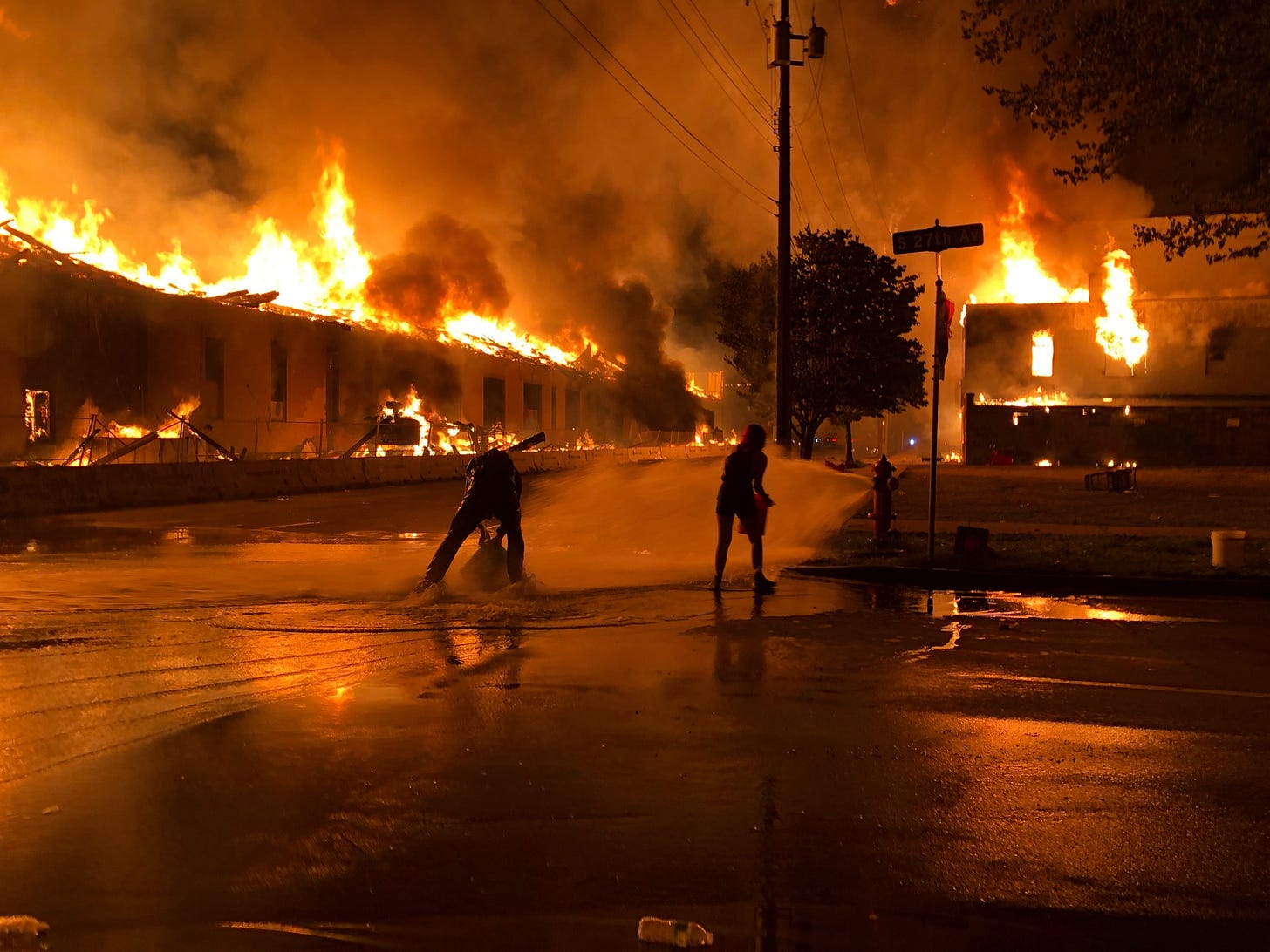 Image: And that is my awkward pivot into finding a way to run this stunning photo from the US snapped by Max Nesternak of the Minnesota Reformer while covering the riots in Minneapolis in response to the killing of George Floyd. (Source: Max Nesternak)
Reporting In
Where I recap what I've been doing this last fortnight so you know I'm not just using your money to stimulate the local economy …
You Hate To See It
A dyspeptic, snark-ridden and highly ironic round-up of the news from our shared hellscape…
Failing Upward
Where I recognise and celebrate the true stupidity of the rich, powerful and influential…
Due to the massive news cycle and the (horrifying) length of this email, we here at Raising Hell have decided to skip Failing Upward to focus on the robodebt news. To wit, we nominate whichever unnamed drone came up with the idea for robodebt and sold their bosses on the concept. We assume they've since been rewarded with a sweet new gig over in compliance at the NDIS or something. Godspeed, brother.
Good Reads, Good Times
To share the love, here are some of the best or more interesting reads from the last fortnight…
Wen Stephenson's interview with John Nichols in The Baffler talking about how the US Democratic Party lost its soul is worth a read.

For a dark prediction of where the world might be heading, Nouriel Roubini, one of the guys who predicted the GFC, says the world is heading for a "Greater Depression" in this interview he gave NY Mag's Intelligencer.

Last week I shared this post by Jamie Moffatt, with permission after it was shared many times over on my Facebook.
Highlight Reel
They say the camera adds ten pounds, here's the best clips from the last fortnight or just interesting stuff I found…
If you wanted any more proof the US is an falling superpower and a failed state, here is the moment police officers arrested a black reporter live on air, while they left a white reporter working nearby entirely untouched. Or maybe scroll this highlight reel of police violence, or this one of police violence directed at journalists.
Before You Go (Go)…
Are you a public sector bureaucrat whose tyrannical boss is behaving badly? Have you recently come into possession of documents showing some rich guy is trying to move their ill-gotten-gains to Curacao? Did you take a low-paying job with an evil corporation registered in Delaware that turns out to be burying toxic waste beneath children's playgrounds? If your conscience is keeping you up at night, or you'd just plain like to see some wrong-doers cast into the sea, we here at Raising Hell can suggest a course of action: leak! Download the encrypted message app Wickr Me onto your phone or laptop and contact us securely at my handle: rorok1990.

If you're lurking and like what you see, throw me a subscription to get my screeds straight to your inbox every second Tuesday — it's free. If you like what I do and want to see me do more of it, throw me a paid subscription — it's $5 a month or $50 a year. Are you skint? Or flush? Well, you can also pay what you feel I'm worth by setting your own yearly rate.

And if you've come this far, consider supporting me further by picking up one of my books, or leaving a review or just tell a friend about Raising Hell!