Raising Hell: Bonus Content: Why We Need A Robodebt Royal Commission
"I'd even defend George Bush! But only if he pleads guilty." - Jacques Vergès, French resistance fighter, writer, political activist and lawyer famed for defending war criminals and genocidaires.
Robodebt may be dead but it has yet to be buried.
Even as the class action lawsuit is working its way through the courts, the federal government has been working overtime to worm its way out of anything that may feel uncomfortably like accountability.
And yet the hits keep coming. If your attention was elsewhere over the weekend — with everything going on, who could blame you? — you may have missed the latest developments in the robodebt saga when Luke Henriques-Gomes (a subscriber to to Raising Hell) obtained documents showing the first questions raised over the legality of robodebt were raised back in March 2016 — four years ago.
In practical terms, what this paper trail represents for the government is an uncomfortable reality. These documents now make it impossible for senior ministers to go on claiming the whole thing was an honest mistake made by a well-meaning, if misinformed leadership. The significance of this cannot go overstated. In effect, they offer documented proof the long-held suspicions activists who fought robodebt may be totally correct: that the government took an idea from whiteboard to rollout and along the way rode roughshod over anyone who gave it any serious thought. In other words, it is now becoming clear the government knew the whole thing was a mess, and then in a moment of pure hubris, did it anyway.
To date, however, there has been a refusal to explain, with any clarity, precisely who made what decisions and when. Unfortunately for the Morrison government, this allergy to basic accountability is now fueling calls for a Royal Commission to investigate the timeline of events and audit every single debt raised under the program. The first public call for a robodebt Royal Commission went out with Greens Senator Rachel Siewert leading the charge a week ago. Since then Federal Labor signalled it is open to the idea, giving it enough momentum activists, legal academics, observers and media commentators like The Guardian's Katharine Murphy are talking about it like a serious possibility.
Among them is Dr Darren O'Donovan, a senior lecture in administrative law at La Trobe Law School who has been a consistent presence throughout the campaign. Having called out the government over the scheme early on in 2017, Darren has been a prominent critic of robodebt and gave evidence last year during the current senate inquiry. From his Twitter account, he has offered a rolling commentary on every new development. With so much going on, I reached out to Darren to talk about the class action, about the Amato decision that set it all off and about why we need a Royal Commission.
The interview has been edited for clarity, style and length.
RK: In the last couple of weeks, the government has announced it will refund the robodebt scheme in a late-afternoon garbage dump, what was your reaction?
Darren O'Donovan: I'm happy for the people I have met. The government has, however, simply conceded the legally inevitable. This should have happened months ago. It's such a public administration debacle they were not in a position to execute a refund until February, as they never tracked the averaged debts. The taxpayer had to fork out an unknown amount for 650 staff to literally find and count 470,000 files.
The truth is we are so far off remedying this unprecedented situation. The 'we are making it right' narrative needs to be interrogated. We've got entire cohorts of debts calculated off bank statements under a cloud, needing remediation. We have debts before 2015 that have been 'lost' and there is no practical effort being made find them.
Then we arrive at the fact not a single person has been held to account for the 1000 days of warnings that were given about the unlawfulness of it all. No one wants to look at the governance failures that authored this. What has been done to people, to the federal budget, to public discourse for five years is being met with silence and inaction.
I'd also warn that what's happening now, what we've seen in the last week or so, is about positioning for the class action settlement. The government has accepted the inevitable to negotiate what's left in its favour.
Senior government officials are talking about how they want to rewrite the laws to make it legit and how they still want to find a way to claim back the money. What's your read on that whole situation?
The fact that they reportedly explored retrospective legislation is so informative. The government was so confident in this program it booked four billion dollars to the budget and then when it all collapsed, they even considered legislating away their mistake. It should remind us how effective the activists have been on this issue — people like Asher Wolf, Lyndsey Jackson and NotMyDebt — and each and every victim who spoke out. They made the phrase 'robodebt' a cultural and political marker with specific social meaning that has forced the government to answer. Without it, the government would have simply pretended like nothing had happened and we'd be sitting here with the retrospective Income Averaging (Nothing to See Here) Act 2019 legalising everything. That's what makes change — the personal, the human, the commitment.
"The important thing to remember now is that robodebt was never just unlawful: it was inaccurate, it was unfair, it was monumentally counterproductive. It endangered jobs, health and education."
The Government now needs to take on board the full case the community have been prosecuting. Organisations like ACOSS, National Legal Aid, NotMyDebt and legal academics like myself and Terry Carney have thoroughly debunked robodebt as a policy. Whatever logic they want to debate this under, it is a discredited concept. The important thing to remember now is that robodebt was never just unlawful: it was inaccurate, it was unfair, it was monumentally counterproductive. It endangered jobs, health and education. It robbed some of my own students of the most important time of their lives, as they sat exams, as they tried to step out and up in the world.
Up until the Amato decision, it seems the government worked hard to avoid setting any sort of adverse precedent. What is the significance of that decision?
After Amato, it was game-over for the Government. Right now the Government has been working to minimise everything that's been happening as a 'legally insufficient' technicality. But in Amato, the Victoria Legal Aid made Services Australia cop to what's called 'SZMDS irrationality'. Legally, that is the most grievous error a government can make. It is also extremely rare. It means they were so utterly unmoored from the statute, that averaging was legally baseless. In fact, it was so baseless in law Terry Carney rightly called it 'kindergarten law'.
We spent four years trying to get the government to admit this was unlawful and Amato turned it all around. You have to remember that in the weeks before the judgment was handed down, the Department was still claiming that only 1.2 percent of the debts were in error. As part of the case, Victoria Legal Aid got hold of the government's 'operational blueprint' — this is the document that outlines Centrelink's plumbing. What we saw was a baked-in culture of disbelief. A case worker was expected to disregard the person's original reporting. Even if it showed their hours varied – for example where a student was clearly taking time off work to do exams – unless that student handed over ludicrous amounts of historical documentation, staff were to apply the Australian Tax Office data.
This government received 1000 days of warnings about the unlawfulness of this. We have the receipts on this, we have the public record. This cannot be painted as a "my bad" moment. The government cannot legitimately position themselves as passive 'victims' of incomplete legal advice. I know, because every contribution I made for three years was about getting them on the record about the legality. In May 2017, I tweeted out a tribunal ruling stressing averaging was unlawful and a senator read it out directly to them during the first senate inquiry. There were so many other unpublished tribunal rulings against them. Terry Carney and Peter Hanks QC called them out, in the public square. Departmental figures cannot deny they were told. It's there in black and white. As is their legal obligation to pay due regard to decisions of the tribunal.
I train public servants for a living. I know that if staff were free to make things right, they would have. So many of them bravely spoke out. We now need to interrogate the power structures underneath this. If it goes unexplored, nothing will change. What we need is a Royal Commission. Every Australian would benefit from an inquiry.
So there's been a lot of hubbub about the class action. What is a class action and how do they work?
I cannot give legal advice on this and anyone who wants specific information relating to the class action should contact Gordon Legal or another law firm, or see Victoria Legal Aid for more. More broadly, a class action, allows a set of lead plaintiffs to represent an entire cohort, in this case the robodebt cohort, in a civil claim for damages. To permit that, there must be a process of consent. In this matter, the Federal Court ordered that opt-out notices be sent to 616,000 people. If they do not opt out, they will be bound by the terms of the settlement and will not be able to take a similar action in the future.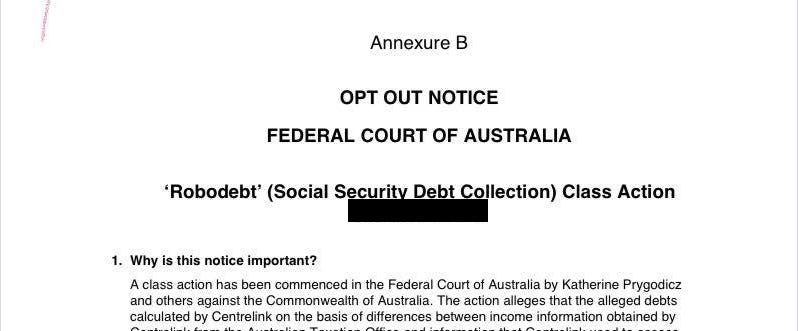 Image: Copy of opt-out notice being sent to people as part of the class action.
The positive of a class action is that it achieves a collective voice and resourcing that is not possible through individual pleading. You can see the power of that in the Government's actions of late. The downside of a class action is that it often involves pragmatic trade-offs in negotiating and determining the appropriate remedy for such a diverse group.
There are indications that the government has some confidence it can defend the duty of care claim, at least. But there's more to law than textbooks and a lot of this is shaped around the prospect of an actual trial. If this goes to trial government lawyers will be forced to respond to every single event and documents will be produced. This creates an incentive for the government to settle out of court – and if it does, won't that be telling? One of the reasons I want an inquiry, however, is to make sure that there is no slippage on the road to remedy here. We want to make sure this never happens again.
Why should we – or should we not – have a Royal Commission?
An inquiry is the only way to deliver the Prime Minister's promise to "make this right". If the politicians aren't to blame: let's look at the governance issues arising. If you got bad advice: let's look at why. There is literally nothing the Government can say publicly that can't be answered with 'if that's right, why not have an inquiry?' Those who suffered are entitled not just to words but action.
I know those with debts will fear any Commission will be a talking shop. But part of the call for a Royal Commission is for a forensic audit of the files the Centrelink reportedly cannot find — to find every averaged debt regardless of age. For direct independent reviews of debts reverse engineered off bank statements. I don't want anyone thrown back into that kafkaesque world of labour hire contractors, subject matter experts and months of silence. People who believe a debt is not accurate deserve the fundamental dignity of a well-reasoned decision. They also often deserve compensation available under the Commonwealth Scheme for Defective Administration.
There are a lot of unanswered questions about robodebt. I've got my own, but what are some of yours?
First of all, the $721 million figure being talked about in the media seems to refer only to the amount of payments made that are to be refunded. For clarity, I'd like to the government fill in the blank by giving us the total value of debts, including those which are to be zeroed.
Next: how could the department not seek independent legal advice until September 2019, when their legal position was being publicly taken to the cleaners? What does that say about how the department governs its interpretation of key legislation? There are literally 1000 days of direct warnings the government needs to account for. And it's not just that the government was wrong. It was that it wouldn't even front up to having the question determined. Whatever your political views, a government that fails this badly at the basics of administering law needs to be held to account. All while so many people suffered horribly.
"I know those with debts will fear any Commission will be a talking shop. But part of the call for a Royal Commission is for a forensic audit of the files the Centrelink reportedly cannot find — to find every averaged debt regardless of age."
I do, however, agree with the Prime Minister that we need to look at the way income averaging was done and not just the underlying technology. His comments on this have shined a much needed light on key 2015 policy decisions. In June 2015 the department decided they would no longer go directly to employers obtain payslips to prove debts. I would love to see the business case and underlying assumptions for that decision. What happened in 2015 is key and the sequence of those decisions have gone unexamined in every existing inquiry. The failed ombudsman investigation of 2017 literally placed the events of 2015, and the key legal questions, in an appendix. 
We also need to tell the full truth about this programme for the public. I wince every time a newspaper uses shorthand like "the online compliance initiative colloquially known as robodebt". This stuff has been made confusing in order to generate the impression it was being improved.  The reality is what we call "robodebt" was constantly rebranded and includes: Employment Income Matching (2015-16), Online Compliance Initiative (2016-2017), Employment Income Confirmation (2017-2018) and the Check and Update Past Income (2018-2019) systems. The mother of Rhys Cauzzo, a young man who died, still does not know whether her son's debt was averaged and the department won't tell her.
You've gone through a lot for your advocacy on this issue. From what I understand, you've been attacked for your criticism of the government over this program. Watching from the outside, this has put you in the interesting position of being at odds with the state – something which takes a lot of courage. I'm wondering how you're doing personally with all this?
After giving evidence to the 2019 senate inquiry, both Terry and I were branded as 'disrespectful' and 'unusual for legal professionals'. But that doesn't matter. What matters is what they were trying to take away by attacking me. At that time the government were working hard to stop us using the word 'robodebt'. For me it was a moment that underscored the real issue at stake: who gets to speak about these issues. Australians carry as many ideas and about their government as the consultants or politicians who run it. As academics it is our responsibility to assess and speak to them.
We do not live in an age of 'alarmist' scientists, 'activist' doctors or 'disrespectful' legal academics. We live in an era when our system of governance is being distorted by political loyalty. But the longer you deny the truth, the greater the power it holds. We must never forget that it was Ms Amato and Ms Masterson – and all the others who spoke out who unlocked the truth for us. They are true heroes.
The toughest moments were ones you wouldn't expect. I remember was sitting at a disability advocacy event in Indonesia when the senate committee invited me to make a submission. And I'm thinking: 'I owe my students work, I have so much other work at uni, how am I going to get through it? I stayed up until 1am the night before the hearing, writing a document defending the use of the word 'robodebt' to describe this system. To this day, I can't look at it because the typos remind me of what I was feeling that night. And it's been reported the government had legal advice saying we were right at the very time that hearing took place and we were being slammed for using the word 'robodebt'.
We do not live in an age of 'alarmist' scientists, 'activist' doctors or 'disrespectful' legal academics. We live in an era when our system of governance is being distorted by political loyalty. But the longer you deny the truth, the greater the power it holds.
I don't want people walking away from this with the wrong idea of what makes change. Of what protections the law can provide. The Department got about 100,000 files into this before Asher, Lyndsey and the NotMyDebt volunteers stood in the tide and fought back. It is so important to realise that the system is not self-correcting. The class action lawsuit, while really welcome, is a bit of a legal fluke only available for those people dealing with robodebts – not other parts of social security system. All too often people don't get to see Terry in his office or go to the tribunal. People don't get to see a funding starved Community Legal Centre or Legal Aid. They get letters, and they are alone, and don't know what to do. That is how it is in this country, and how it will stay until we change it.
I hope for truth and justice for everyone, but in my heart I know accountability doesn't always work like that. We're heading for something ambiguous with a bit of pain to it. Instead I'll take away small things like being able to tell Jenna Price on the phone that Ms Amato was owed $480 by her government. The SBS Feed skit on the government's efforts to get out from under 'robodebt'. A signed version of David Pope's Amato cartoon that I was given at Christmas. Someday, if we still have jobs – and every debt is found – I'm going to hang that cartoon in the office above where my own heartbroken students sat with robodebt letters in 2016.


Before You Go (Go)…
Are you a public sector bureaucrat whose tyrannical boss is behaving badly? Have you recently come into possession of documents showing some rich guy is trying to move their ill-gotten-gains to Curacao? Did you take a low-paying job with an evil corporation registered in Delaware that turns out to be burying toxic waste beneath children's playgrounds? If your conscience is keeping you up at night, or you'd just plain like to see some wrong-doers cast into the sea, we here at Raising Hell can suggest a course of action: leak! Download the encrypted message app Wickr Me onto your phone or laptop and contact us securely at my handle: rorok1990.

If you're lurking and like what you see, throw me a subscription to get my screeds straight to your inbox every second Tuesday — it's free. If you like what I do and want to see me do more of it, throw me a paid subscription — it's $5 a month or $50 a year. Are you skint? Or flush? Well, you can also pay what you feel I'm worth by setting your own yearly rate.

And if you've come this far, consider supporting me further by picking up one of my books, or leaving a review or just tell a friend about Raising Hell!